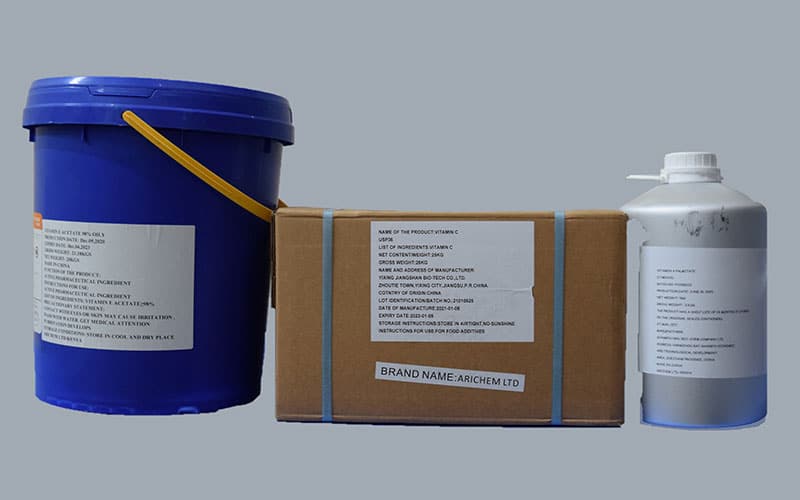 The world has become more health-conscious and is today turning more critical attention to products that will enhance health and wellbeing thus shifting the paradigm to preventive medicine and supplements that boost the body's immunity. Consequently, there has been increased consumption of vitamins and supplements.
Arichem Limited has for over the years built a reputation for sourcing, stocking, and distributing the highest quality vitamins to meet this growing demand.
We supply a wide range of vitamin raw materials to cater to a large number of manufacturers in Kenya and Eastern Africa. Vitamin ingredients are useful in the pharmaceutical, nutraceuticals, food ingredients, animal nutrition, cosmetics, and industrial preservations industries among others for the manufacture of drugs, vaccines, nutritional supplements, and other products.
Are you in the business of producing healthy vitamins, supplements, or other products that require raw vitamin ingredients?
Choosing to walk with Arichem Limited as your supplier for vitamins gives you access to a wide array of vitamins alongside quality packaging and expert support from our professional team. Arichem Limited supplies bulk vitamins in various forms including powders, liquids, and crystals. We welcome you to walk with us as we grow with you.
| View Products | View Products |
| --- | --- |
| Vitamin A Acetate powder 0.5miu | Vitamin B6 HCL (Pyridoxine HCl) |
| Vitamin A Palmitate 1.7miu/gm | Vitamin B12 (Cyanocobalamin)BP in gm. |
| Vitamin B1 (Thiamine HCL) USP | Vitamin C (Ascorbic acid) |
| Vitamin B1 Mono Nitrate BP | Vitamin D3 100,000 IU/GM |
| Vitamin B2 (Riboflavin base) | Vitamin E acetate 98% oily |
| Nicotinamide BP | Vitamin K3 |
| Calcium D-Panthothenate USP | Vitamin E Acetate 50% Powder |
| D-Panthenol USP | Biotin (Vitamin B 7) |
| Riboflavin Sodium 5 Phosphate BP | |
The Role of Vitamins in the Body
Vitamins are considered essential nutrients and are needed in small quantities to maintain proper function and good health in the body.  While humans and animals can obtain adequate healthy vitamins from a proper diet, more often than not, the body does not produce as many vitamins as the body requires.
Vitamins are classified as either water-soluble or fat-soluble. In humans, 13 types of vitamins are recognized as essential for the proper functioning of the system.
Each vitamin has a special function from the production of red blood cells, healing wounds, to boosting the body's immunity. Four types of vitamins A, D, E, and K fall under the fat-soluble category and the other nine types of vitamins including B vitamins (thiamine, riboflavin, niacin, pantothenic acid, biotin, B6, B12, and folate) and C fall under the water-soluble category.
Most vitamins are water-soluble and will dissolve fast in the water. They are also excreted equally fast out of the body. This essentially means that while the body needs them to function, they cannot be stored in the body and a frequent intake is required to sustain normal body function. Fat-soluble vitamins, on the other hand, mostly occur in high-fat animal proteins like egg yolks and dairy products.
Fat-soluble vitamins are absorbed and stored in the adipose tissue and the liver through the intestines in the presence of lipids. Unlike water-soluble vitamins, the intake of fat-soluble vitamins should be regulated.
Where do manufacturers source Vitamins?
Naturally, vitamins occur in plants and animals. Therefore, vitamins can be extracted from plants and food sources or synthesized chemically in a specialized laboratory to be ingested in the form of nutritional supplements or incorporated as an ingredient in other products.
Commercially produced vitamins are mostly synthetic vitamins as they are cost-effective to produce compared to natural extracts. For instance, Vitamin A can either be derived from fish liver oil or synthetically produced from acetone while Vitamin C can be extracted from citrus fruits or synthetically produced from keto acid.
It is important to note that there is no difference between the chemical composition of vitamins derived from plants and animals and those produced synthetically.  Also, the same processes are used for the production of both synthetic and natural vitamins hence both are safe for human consumption. However, the techniques that different laboratories employ in the production of vitamins vary. All vitamins distributed by Arichem Limited are sourced from certified manufacturers and produced under highly controlled and regulated production facilities and processes that comply with the highest safety standards.
When produced in the forms of tablets and capsules, vitamins will typically be combined with excipients such as to facilitate their processing. Excipients are also responsible for their shape, color, stability, and other biopharmaceutical attributes. Excipients such as maltodextrin and microcrystalline cellulose are commonly used as fillers to increase the volume to aid the processing of vitamins while also facilitating their formulation into the appropriate sizes for consumption. Stearic acid acts as a lubricant in vitamin tablets, starch acts as a disintegrant or binder, and cellulose bases such as ethylcellulose as a coating film.
What determines the quality of raw material vitamins?
Aside from the techniques and the equipment used in the production of vitamins, pure and high-quality raw materials are the foundations of the quality of vitamins.
As leading suppliers of vitamin raw materials, Arichem Limited is committed to sourcing only the highest-quality vitamins produced by credible manufacturers from high-quality raw materials. We strongly believe in delivering beyond the expectations of our customers to enable them to in turn produce high-quality products for the end consumer.
What products can manufacturers can produce using Vitamin ingredients?
Once Arichem Limited, your trusted, reliable supplier, sources and supplies high-quality vitamins from licensed producers across the globe, it supplies to manufacturers in various industries who then use them alongside other ingredients to produce products like:
Dietary supplements and effervescent multivitamin supplements
B-complex capsules
Pharmaceutical products including prescription and over the counter medication
Teas
Ointments
antiseptics
Beverages such as energy drinks and juices
Confectionary
Baby food
Cosmetic products like skin creams, lotions, and powders
Animal feeds
Are you looking for Vitamins?
Arichem Limited is committed to sourcing and supplying only the purest vitamin ingredient within the shortest lead time from the time of placing your order.
Our broad collection of Vitamins and additives accords our customers of the convenience of sourcing all their bulk vitamins and raw materials from one credible supplier.
What's more? We offer the highest-quality vitamins at very competitive prices.