At Arichem, we source and supply the highest quality chemicals and excipients. Our flavors are no different. We are committed to giving our customers access to the highest quality and innovative flavoring ingredients for their products.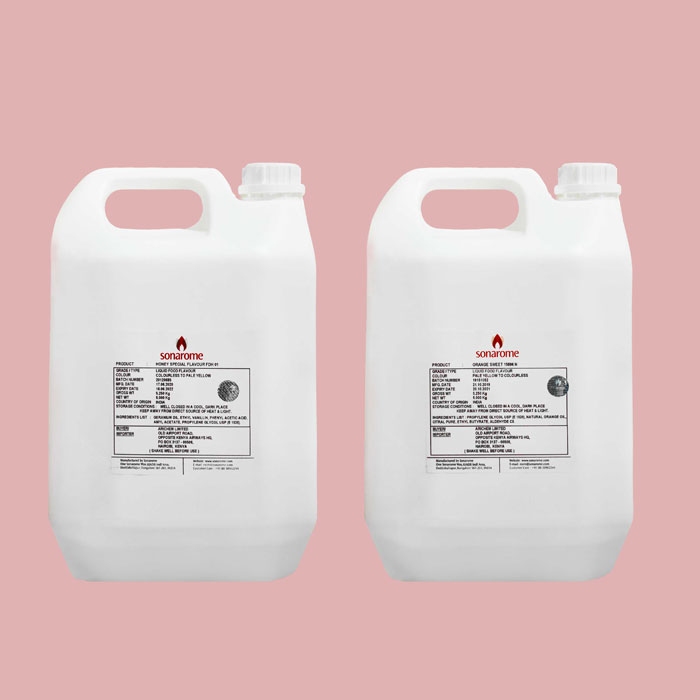 Arichem's product portfolio covers an array of flavors in liquid, powder, and oil forms that make a great addition to products. Flavors are functional for setting up the main profile smell or accenting the smell of products and can either be natural or artificial. Yet their function goes beyond setting up a smell profile in products to delivering a great taste profile in food products.
The beauty of an authentic flavor is that it ignites both the olfactory (smell-related) and gustatory (taste-related) senses quite distinctly. Customers are not only aware of but are also able to discover the flavors that tickle their senses and provide them with a pleasurable sensory experience consuming their preferred products.
| View Products | View Products |
| --- | --- |
| Flavour Strawberry Liquid | Flavour Vanilla liquid (Brown) |
| Ginger flavor liquid | Flavour Red plum liquid |
| Flavour Raspberry Liquid | Flavour Vanilla liquid (Colourless) |
| Cinammon flavor liquid | Rose flavor liquid |
| Flavour Banana Liquid | Flavour Honey Special Liquid |
| Black Currant flavor liquid | Flavour Pineapple Liquid |
| Flavour Cherry Liquid | Flavour Mango Liquid |
| Chocolate flavor liquid | Peppermint Oil flavour |
| Apple flavor liquid | Flavour mixed fruit liquid |
| Butter flavor liquid | Lemon flavour liquid |
| Flavour Caramel liquid | Flavour Orange sweet Liquid |
| Coconut flavor liquid | Jasmine flavor Liquid |
Should flavors be used in production?
Flavors are not harmful. Rather, they are produced for human consumption. Flavors are an important ingredient during production as they give products a taste and smell base profile. In many instances, the terms flavors and fragrances have been used together in the chemicals and excipients industry to refer to edible substances of chemical composition that are intended to alter the profile of food, food products, and other products through the sense of taste and smell. The result of incorporating flavoring in products is an altered smell, retained original taste, and most often a longer shelf life.
Not all products require the addition of flavors and legal restrictions have been put in place to limit the inclusion of flavors as a production ingredient in some products. However, the demand for packaged foods, fast foods, fortified foods, and the appeal that products with specific sensorial profiles have created for the end-user has necessitated the need for incorporating flavors in products. Also, flavors give products, particularly food products a longer shelf life.
Manufacturers understand too well that processing products that meet customer needs sometimes alters the taste and smell of products and this necessitates the addition of flavors to give such products a pleasurable flavor profile. Flavors make up for the vitamins, minerals, antioxidants, and other ingredients' profiles that are lost in the course of manufacturing processed foods. Beyond the economical and nutritional benefits of flavors, more and more customers are seeking flavors that arouse a feel-good sense in them whether through taste, smell, or both. Emotions are an important aspect of consumer experience that manufacturers need to take care of through the wide variety of flavors currently being formulated. This remains a key driver for the flavors industry.
| View Products | View Products |
| --- | --- |
| Flavour Banana powder | Flavour Raspberry powder |
| Lemon flavor powder | Flavour Caramel Powder |
| Flavour Strawberry Powder | Red Cherry flavor powder |
| Flavour mango Powder | Tutti Fruity flavor powder |
| Flavour Mixed Fruit Powder | Vanilla flavor powder |
| Flavour Orange Powder | |
Three types of flavours
Flavours are categorized into three broad groups; natural flavours, nature-identical flavours, and artificial flavours.
Nature Flavours
Natural flavors refer to the flavouring substances extracted from plants or animal raw materials through physical, microbiological, or enzymatic processes. Natural flavours can be used in their natural state or further processed and are just that, purely natural flavors. However, their production involves relatively high costs.
Nature-Identical Flavours
Nature-identical flavours are substances extracted by synthesis or chemical processes from aromatic raw materials. As their name suggests, these substances have the same chemical formulation as substances that are naturally present in products meant for human consumption.
These products may be processed or not. Most commercial flavorants are nature-identical flavours because processing nature-identical flavours is cost-effective and the flavours more stable compared to their natural counterparts.
Artificial Flavours
Artificial flavors (artificial flavouring substances) may have the same chemical composition as natural flavours that have been extracted from natural plants or raw materials but are not derived from natural plants or animal raw materials. Yet, artificial flavours are not harmful to humans.
This will, however, depend greatly on the ingredients that go into processing them as well as their production procedures. Arichem Limited's success in sourcing and distributing bulk flavouring ingredients to both large and small manufacturers is largely attributed to the fact that, like the other products in Arichem's portfolio, we source our array of flavours from certified chemical manufacturers.
We are dedicated to continuously enhancing our logistics systems making them cost-effective and efficient enough to deliver products in the safest way.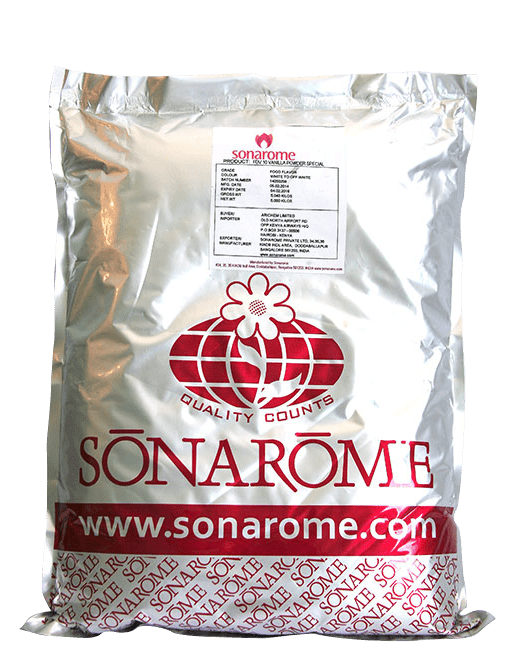 Varieties of Flavours
Flavours come in a wide variety of forms and are useful in the production of an even wider range of products across various industries. These include:
Flavours for dietary and nutraceutical supplements
Pharmaceutical flavours for drugs
Food flavours for production of foods and beverage products including snacks, candy, soft drinks, jellies, sauces, confectionery, condiments, as well as meat products.
Flavours for animal nutrition products
Flavours for cosmetic and personal care products like lotions, jellies, and lip balms
Flavours for essential oils
Whether you need sweet, sour, or tangy flavours, or you need flavours in an unsweetened or sweetened form,  Arichem stocks the most comprehensive list of flavours. Please note that unsweetened flavours have a longer shelf life but you can add a sweetener of your choice during the processing of your products.
Arichem Limited is a bulk supplier of premium flavour chemical compounds. We source and supply wide-ranging flavours including fruit flavours, caramel, vanilla, honey special flavours, and more to our customers, both large and small manufacturers.
Get Flavours today
As a reputable distributor and supplier of various specialty chemicals across Kenya, Eastern Africa, and still expanding our supply chain borders, Arichem Limited has established a strong network with top producers of flavors across the world and this enables us to not only source the highest quality raw material flavours but also supply them at the most competitive prices and provide value-added distribution solutions to our customers who need flavors for their products.